March 7, 2018 10:24 am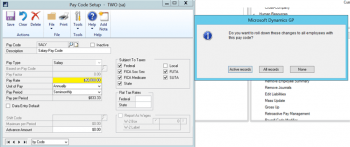 This is part 7 of our 7-part series, "What's New in Dynamics GP 2018?". In this post, we'll discuss the new HR and payroll enhancements rolled out in the latest version of Microsoft Dynamics GP.
Roll down setup options to inactive records – Have you ever wanted to make a change in the Payroll setup options, but didn't want inactive employees to be included? Now, it's possible. In GP 2018, you now have the option to only roll down changes for the active records only. This saves you valuable time as the system no longer has to update all inactive employees.
Under Pay Code Setup window: Go to HR & Payroll, then under Setup click Payroll, the feature will work with Pay Code, Deduction or Benefit. You now have the options to roll down the changes for Active Records, All Records, or None.
Turn off garnishment reports in Posting Setup –You can now turn off Garnishment Detail and Summary reports when posting payroll. This feature was added in Dynamics GP 2018 because many users requested not to see these reports or have them automatically pop up, which speeds up the posting process. Note that these reports will remain marked after upgrading. The Garnishment reports should still print by default until they are unmarked in this window.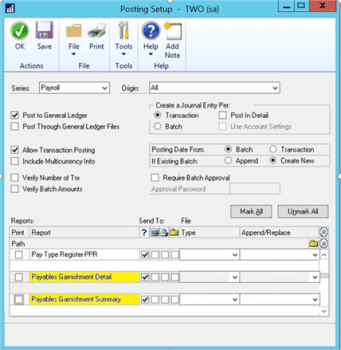 Go to Microsoft Dynamics GP | Tools | Setup | Posting | Posting
Select Payroll series, and Origin of All.
Mark/Unmark the Payables Garnishment Detail and Payables Garnishment Summary reports' as desired.) Save.
Change the department code in all data tables – In GP 2018, users are now able to select Department Code to modify in addition to Pay, Benefit and Deduction. To open the Payroll Code Modifier window: Under HR & Payroll, point to Utilities, under Payroll select Payroll Code Modifier. This will open the Payroll Code Modifier window.
The Payroll Code Modifier now has a fourth option under Code Type to change the Payroll Department Code. Ensure there are no users in the company database before proceeding to click Update after making the desired change to the Department Code. Any tables referencing the old code will now have the new code.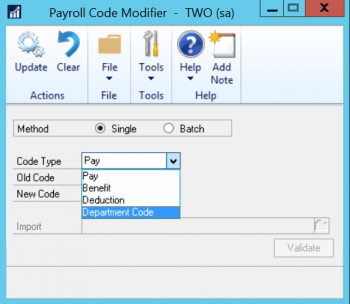 This is the final post in our series, "What's New in Dynamics GP 2018?". If you missed any of the previous posts, you can check them out here.