February 15, 2016 2:51 pm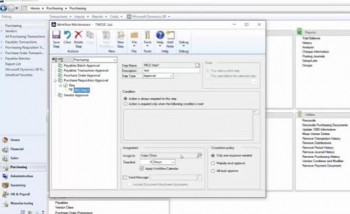 Microsoft Dynamics GP's requisition and purchase order processing workflows enable users to enter requisitions and purchase orders and to submit them through a workflow for approval. Before you can use this system, of course, you have to set it up, and that's what we'll be going over today.
Any employee with security permission to enter requisitions into Microsoft Dynamics GP can do so. Go to Purchasing > Setup > Purchase Order Processing to open the Purchase Order Processing Setup window, and click the Requisitions button at the bottom to open the Requisition Setup window. Here you can select to limit each user to seeing only requisitions that they requested themselves, or you can select to enable them to see all requisitions (or you can prohibit a user from seeing any).
Now you need to set up the workflow. Workflows are company-specific, so go to Tools > Setup > Company > Workflow > Workflow Maintenance, opening the Workflow Maintenance window. Select Purchasing and Purchase Requisition Approval in the pane on the left. Put a manager in the Manager field. This person can approve for all requisition workflows, and is the fail-safe if there is a condition that hasn't been met by a workflow, and no user can be assigned.
Click the New Workflow button to create a new workflow. You can select a number of options here, such as whether to send notifications for completed actions, to allow approvers to delegate tasks, to allow the originator to be the approver, or to always require at least one approver. You can add an alternate approver here as well. You can also select options here for how the system should respond when a task is overdue.
To create a step in your workflow, click the New Step button at the top of the window. Within a step is where you choose the approver and how much time that approver has to take action. You can also select an option that notifies the approver when an assignment has arisen. Click the Save button to save the step.