December 9, 2015 1:54 pm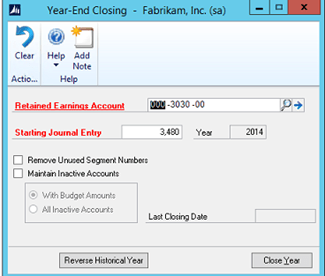 Over the last few weeks, we've been discussing the year-end close for Microsoft Dynamics GP. Last time, we covered closing the year in Payables Management, and today we're taking a walk over to the other side of that equation and taking a look at closing the Receivables Management module. Unlike Payables Management, the 2015 year-end update does not include any changes for Receivables Management.
In Receivables Management, a calendar year end close clears the Calendar Year-To-Date Finance Charges and moves them to the Last Year Calendar field in the Customer Finance Charge Summary window (Card > Sales > Summary > Finance Charges). A fiscal year end close transfers all amounts other than the Calendar Year-To-Date Finance Charge amount to the Last Year column in the Customer Summary window using the Amounts Since Last Closed view (Cards > Sales > Summary). To close Receivables Management, post all transactions for the current year, and then proceed: you can find detailed steps for closing Payables Management and helpful checklists provided by Microsoft here.
Be sure to make a restorable backup. Also be mindful that Receivables Management is not completely date sensitive, and therefore if you do not close the year after you enter all the current year transactions and before you enter transactions for the new year, some areas in Microsoft Dynamics GP will have incorrect information. However, there are some date sensitive features, so your best option would be to close the year on time.
May your receivables grow and grow in the new year!