January 7, 2016 10:51 pm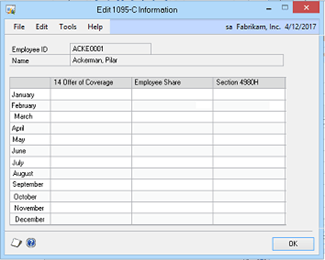 Some businesses have encountered problems when printing 1095-C forms from Microsoft Dynamics GP. Specifically, when the 2015 year end update is installed and the year end wage file is created, the print 1095-C routine is printing all employees instead of just employees with amounts. This means that inactive employees are being printed along with active employees, whether they were paid any wages in 2015 or not.
Luckily, the fix is pretty simple. Microsoft's Terry Heley provides a simple SQL script that you can find here. You can run this script to remove those records with zero amounts from the year end table. If you recreate the year end wage file, the script will need to be run again. Heley assures that this issue will be fixed in a future release.
Remember that you do not need to order or purchase 1095-C and 1094-C forms, as these will be printed with the lines and instruction page that go with the 1095-C.
Meanwhile, on December 28th the IRS extended the due dates for new health care information reporting forms in 2016. Insurers, self-insuring employers, other coverage providers, and applicable large employers now have additional time to provide health coverage information from 2015 to individual taxpayers and the IRS. Providers and certain employers must now furnish individuals with either Form 1095-B or 1095-C by March 31, 2016. The due dates for issuers filing these forms and the associated Form 1094 with the IRS are May 31, 2016 for paper filers and June 30, 2016 for electronic filers.