April 10, 2018 2:58 pm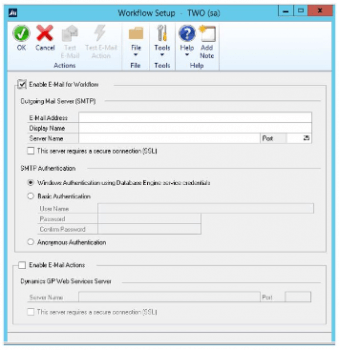 You have probably heard the term 'workflow' in relation to Microsoft Dynamics GP. Yet, you may not be aware of everything it has to offer. This week, our blog will break down what exactly Workflow is, what its benefits are, how to set it up and much more.
Workflow, defined
Within Microsoft Dynamics GP, the Workflow solution provides the functionality used in creating approval processes, or individual workflows.
It is the approval process for master records, batch, or documents. Workflow defines how a master record, batch, or document "flows" through the system by clearly showing who should approve it, and any conditions under which they should approve it.
Beginning with Dynamics GP 2013 R2, Microsoft released a new workflow system known as Workflow 2.0.
Workflow automation helps in streamlining tasks and boosting operational efficiencies while releasing your employees to pursue their core competencies. Seamless integration and intuitive customization with your present IT infrastructure helps in reducing data redundancy and the total cost of ownership. This can greatly extend the value of your IT investments.
Here are the 8 key benefits of the approval workflow in Dynamics GP:
It eliminates errors.
Approvers are empowered to delegate to others when they go on leave.
It eliminates paper approvals and the time spent on chasing approvers to append their signatures to authenticate approvals.
There is no need to log into GP. Approvers can approve or reject easily and quickly by simply clicking on an email link which updates automatically in GP.
Notifications are sent once approved.
Workflows sends a reminder email in case an approver misses the notification email. If the request remains unanswered after a specified period of time, it escalates the process to another approver.
It enhances visibility by enabling staff members to confirm the status of all items awaiting approval.
It creates a business process flow, ensuring consistency.
Approval Processes available in Microsoft Dynamics GP Receivables approval
Payables batch approval
General ledger account addition approval
Vendor addition approval
General ledger batch approval
Payable transaction approval
Purchasing invoice approval
Expense report approval
Purchase requisition approval
Receiving transaction approval
Timesheet approval
Microsoft Dynamics GP's Workflow solution gives both your technical and non-technical staff the information they require to perform their jobs more effectively and efficiently.