August 17, 2015 3:25 am
In our last few entries, we have been talking about the current workflows available for Microsoft Dynamics GP 2015, covering the system requirements for using them, taking a quick look at how some of the financial workflows function, and summarizing how to set up your system to best use workflows. In our last entry, we introduced the Workflow Maintenance screen, where you customize the workflows to function according to your own unique business processes.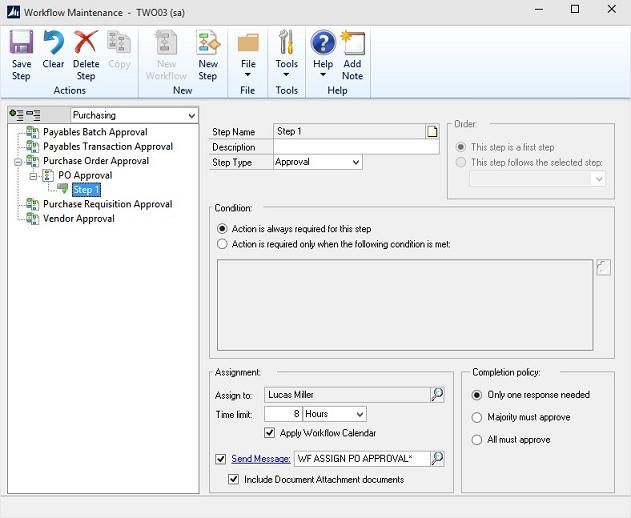 This screen is accessed in Administration, like the other setup functionality. When you open the Workflow Maintenance screen, you can select the type of workflow you are looking for in the drop-down list at the upper left:
Financial
Sales
Purchasing
Payroll
or Project
If you select Purchasing, as an example, you'll find workflows for processes such as Payables Batch Approval, Payables Transaction Approval, Purchase Order Approval, Purchase Requisition Approval, and Vendor Approval.
If you expand a workflow in the list on the left, you'll see the steps for that workflow. Click on a step to set up how that step will work, as shown in the image above. On the right side of the screen, under Order, you either indicate that this is the first step in the workflow, or you select the step that it follows from a drop-down list. Set up the conditions under which action is required, whom the task is assigned to, the time limit, and whether or not to send a message. As a new feature, you can also select whether or not to include attached documents in messages.