May 15, 2016 12:23 pm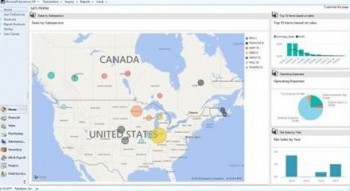 For quite a while now, we've been going over the dozens of new features delivered with Microsoft Dynamics GP 2016. So far we've taken a look at all of the following:
The new HTML5 web client
Web client search
All-in-one document viewer for sales
All-in-one document viewer for inventory
Project accounting in requisitions
Document attachment for project accounting
Enhancements to payroll posting accounts
Improved prepayments on purchase orders
An option to exclude inactive pay codes from the pay codes lookup
An option to enable a check batch to be paid by credit card
Numbers exported from Excel will be formatted as numbers rather than text
Two new exception reports printed when importing a budget from Excel
Enhancement to granting access rights to Analytical Accounting
Import/export feature in SmartList Designer
Ability to create SmartLists from favorites
Word templates for batch approval workflow
Enhancement to workflow condition management
Workflow reassignment notifications
New user type
Automatically post cash deposits from a batch
Manage and edit attachments that flow to transactions
Today we're finally going to finish our overview of the new features you'll be enjoying in Microsoft Dynamics GP 2016.
Power BI is a powerful reporting tool, and now you will be able to view reports on the home page of the desktop client for Microsoft Dynamics GP. A new portion of the home page is dedicated to displaying Power BI reports, and you can click on a report to go to your Power BI site. Power BI is brought to Microsoft Dynamics GP with the OData service, which is also new to this release of Microsoft Dynamics GP. OData has a separate installation under Additional Products, and you use GP security to control access to data.
And that wraps it up. Microsoft Dynamics GP 2016 is now available, and as you can see, it includes a lot of enhancements. We'll be looking at some of these new features in even more detail over the coming weeks.