June 14, 2016 12:01 pm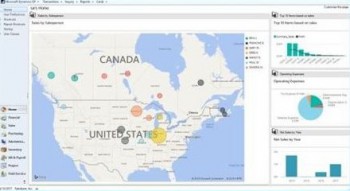 Microsoft Dynamics GP 2016 was released in May, and one of the new features it delivered is the ability for users to view Microsoft Power BI reports on the home page of the desktop client for Microsoft Dynamics GP. A new portion of the home page is dedicated to displaying Power BI reports, and you can click on a report to go to your Power BI site.
Power BI is a powerful reporting tool, a subscription service that integrates smoothly with Microsoft Dynamics GP. You can bring your data to life with Power BI. The solution transforms your organization's data into rich visuals for you to collect and organize, enabling you to focus on what matters most to you and your role in the organization. Stay in the know, spot trends as they happen, and push your organization further.
And if you want to find out first-hand what Power BI can do for you, you can try it for free here. With a free trial of Power BI, you can connect Microsoft Dynamics GP and test out the new Power BI feature on your home page. You can get information on registering a client app, getting a Client ID, and filling out the Reporting Tools Setup screen here.
With the free trial, be aware that there are limitations to the new feature that enables you to display Power BI reports on your Microsoft Dynamics GP home page. Full page reports and full fidelity Excel tiles and models will not work. You will need to pin an individual tile from a report for it to work.