July 17, 2015 6:48 am
The latest release of Microsoft Dynamics GP, Microsoft Dynamics GP 2015 R2, arrived in June, and with it came a shipload of new features. We've mentioned the new Self Service User Type before, but today we're going to take a closer look at it. A popular request from customers, this new user type was created for users who require very limited access to the Microsoft Dynamics GP system. It is a less expensive option which enables users to perform tasks such as entering payroll time, entering project time and expenses, and/or creating purchase requisitions.
Self Service User Type Overview
The Self Service User Type has been added to the User Setup window (Administration > Setup > User), as shown below.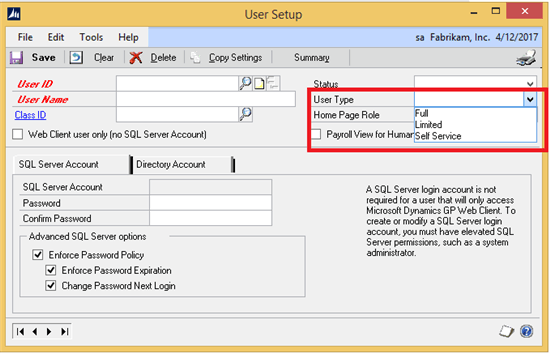 To assign the Self Service User Type to a new or existing user:
Open the User Setup window.
Next to User ID, enter a new User ID or select an existing User ID.
In the User Name field, enter a name for the new user if applicable.
Select Self Service for the User Type.
Enter/confirm a password for the user.
Click Save and close the window.
Self Service Users can access the following self service features, depending on the security access grant them:
Purchase requisition
Payroll time card
Project time sheet
Home page parts
Employee profile
Paystubs
W2
W4
Benefits
Direct deposit
Skills and training
Project and expense