June 26, 2016 7:25 pm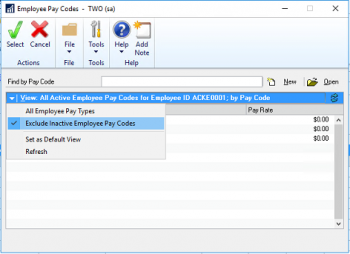 Microsoft Dynamics GP 2016 was released in May, and for the last few months we've been going over the dozens of new features it delivers, first as introductions, and now in more detail. In our last blog entry for Microsoft Dynamics GP, we covered enhancements to payroll posting accounts:
A new navigation list has been added in Microsoft Dynamics GP 2016 that enhances a user's ability to view, sort, search, set up, and edit payroll posting accounts.
Users can now export their setup, make changes in Excel, and then import the changes back into the system.
When importing an Excel file back into the system, it will be scanned for errors, and a report will be generated notifying you if there are errors that need to be resolved, such as an account that does not exist in your setup.
Today we're going to take a closer look at another new feature, removing inactive pay codes from payroll transaction entry.
In Microsoft Dynamics GP 2016, you now have the option to include or exclude inactive pay codes when looking up pay codes in the Payroll Transaction Entry screen for an employee. This has been an oft-requested feature from customers, so will no doubt please many users.
In the Employee Pay Codes lookup screen, if you click the blue ribbon, there is now a drop-down list with the option to "Exclude Inactive Employee Pay Codes." By default, inactive pay codes will be listed in this screen, so if you want "Exclude Inactive Pay Codes" to be the default instead, you must check the "Set as Default View" option. Remember that there are other screens that use this same lookup (Employee Pay Codes), so it would be set as the default for those screens as well.