June 23, 2016 6:53 pm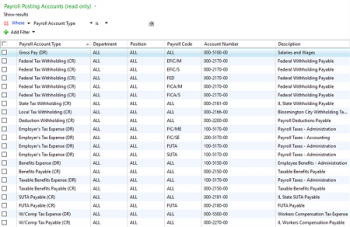 Microsoft Dynamics GP 2016 was released in May, and we've been going over the new features it delivers, first as introductions, and now in more detail. Today we're going to take a closer look at another new feature we've previously introduced: enhancements to payroll posting accounts.
A new navigation list has been added in Microsoft Dynamics GP 2016 that enhances a user's ability to view, sort, search, set up, and edit payroll posting accounts. This new payroll posting accounts navigation list is a great way to manage your payroll posting accounts, and it enables users to import and export their payroll posting accounts setup. Users can now export their setup, make changes in Excel, and then import the changes back into the system.
To experience this feature, select the HR & Payroll module. In the navigation pane on the left, select "Payroll Posting Accounts." Your payroll posting account information will now be displayed in a manner that can be easily filtered and searched.
To add a filter, you just click the green plus sign icon next to "Add Filter." This will enable you to filter your accounts for items such as:
Payroll Account Type
Department
Position
Payroll Code
Account Number
Description
Click the Account button on the "New" section of the ribbon, and you will be able to enter a new account. Also on the ribbon, under "Actions," there is an Excel button with a drop-down list for importing and exporting. When importing an Excel file back into the system, it will be scanned for errors, and a report will be generated notifying you if there are errors that need to be resolved, such as an account that does not exist in your setup.