July 28, 2016 2:38 pm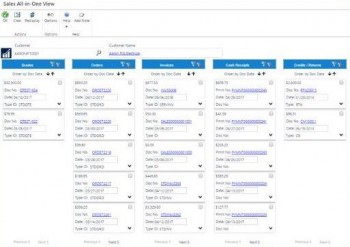 Microsoft Dynamics GP 2016 was released in May, and for the last few months we've been going over the dozens of new features it delivers, first as introductions, and now in more detail.  Today we're going to take a closer look at another new feature that we've previously introduced: the all-in-one view for sales.
The purchasing all-in-one view that came with the release of Microsoft Dynamics GP 2015 R2 has proven to be a very popular feature, and now we have an all-in-one view for sales, enabling you to view related sales documents in one easy-to-view window. So if a customer calls asking about a specific invoice, you will be able to select the customer, then view all documents related to the invoice, such as the quote, order, payment, and more. Quotes, orders, invoices, cash receipts, and credits/returns will display by default.
To add or remove document types, click the Options icon on the Action pane, opening the Sales Options window and enabling you to customize your Sales All-in-One window. In the Sales Options window, you can select which columns and document types to display.
You can also apply filters on the data for easy searching. Click the Filter icon to open the Filter window. You have this option for all columns. When you click OK, the options will be saved, the Filter window will close, and records that match your filter will be displayed.
Each column will display the last five transactions to date, newest to oldest, by default. You can use the arrow icons to resort each column. The only sort option is by date, but you can switch to oldest-to-newest.
You can expand individual summary panes in each section to review more information on the transaction. Just click the chevron in the summary section, and an expanded window will open, displaying more data.