May 3, 2016 12:46 pm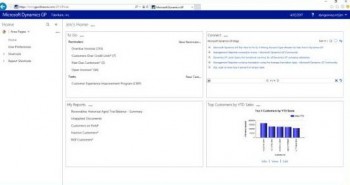 Microsoft Dynamics GP 2016 has arrived, and if you are using a cloud installation of Microsoft Dynamics GP, you will want to upgrade to the new web client. The biggest change you will see after the upgrade is the new HTML 5 platform, replacing Silverlight. This enables access to the web client from multiple browsers and multiple devices. Microsoft has published a detailed how-to guide for upgrading to the latest version of the solution that you will find handy.
Microsoft points out in that blog entry that you will need to verify whether you are in a single or multiple server environment before upgrading. If you are in a single server environment, then you will upgrade the Session Central Service and Session Service on one server, and if you are in a multiple server environment, then you will install the Session Central Service update on the Session Central Server/Web Server, and the same goes for the Session Service/Session Host Server. You will also need to ensure that you are upgrading all of your servers, so that they are the same Web Client version.
They also point out that there is still the option to install Web Client and Web Components in the Microsoft Dynamics GP 2016 install media. "For all intents and purposes," Microsoft notes, "they will do the same thing."
You will have the option to install/upgrade Service Based Architecture (SBA) when installing Web Components. That process is not covered in the blog entry's instructions. If you are not using SBA, you can right-click on Service Based Architecture and SBA Session Manager and select "Not Available."
For the detailed guide, see the linked blog entry.