April 29, 2016 1:38 pm
In our last few Microsoft Dynamics GP blog entries, we've been looking at some of the dozens of new features coming next week with the arrival of Microsoft Dynamics GP 2016. So far we've taken a look at all of the following:
The new HTML5 web client
Web client search
All-in-one document viewer for sales
All-in-one document viewer for inventory
Project accounting in requisitions
Document attachment for project accounting
Enhancements to payroll posting accounts
Improved prepayments on purchase orders
An option to exclude inactive pay codes from the pay codes lookup
An option to enable a check batch to be paid by credit card
Numbers exported from Excel will be formatted as numbers rather than text
Two new exception reports printed when importing a budget from Excel
Enhancement to granting access rights to Analytical Accounting
Today we're going to continue looking at the new features that will be coming your way as soon as next week.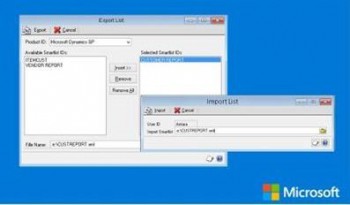 Now you're going to be able to easily share SmartLists. This is an import/export feature for SmartList Designer. This new feature will enable you to import and export SmartList definitions created with SmartList Designer from one installation to another. Furthermore, another new feature will enable you to create a new SmartList from a favorite with SmartList Designer, and you won't have to remove all the extra columns from the default SmartList.
Also coming your way: Word templates for batch approval workflow emails. There will now be a default Word template for the edit list for each of the following:
General Ledger batches
Payables batches
Receivables batches
These can be emailed to the approver for more complete information before approval is made.