December 22, 2015 6:11 pm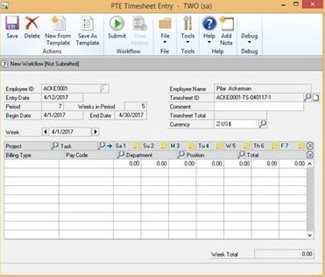 In our last couple of Microsoft Dynamics GP entries, we've covered setting up Project Time and Expense (PTE) workflows for Microsoft Dynamics GP, and using PTE to enter time and expense information and submit it for approval. Today we're going to look at how the approval process works with PTE.
If you are an approver, you can approve items from your Microsoft Dynamics GP home screen by selecting "Approve Timesheets" or "Approve Expense Reports." You can also get there from the Project module's navigation lists by clicking "Pending Approval" under either "PTE Timesheets" or "PTE Expenses."
If you click "Pending Approval" under "PTE Timesheets," you'll naturally get a list of items awaiting your approval. You can select the checkbox next to an item, then at the top choose to approve, reject, or delegate the item. You can also open the item to see more details about it, and approve it from there.
The system works similarly when you click "Pending Approval" under "PTE Expenses." You can approve items one at a time, or you can approve/reject/delegate them in groups. The item list will not refresh automatically. If you want to refresh, you must click the refresh button. This reduces load time on your end.
When transactions are approved, they flow into the Project module. You can view all approved timesheet and expense transactions in their batches in the Project module. These transactions are now ready for posting.
If it all sounds pretty simple, it is. There are more complex things you can do with customizations, depending on your business process wants and needs, but the base functionality is easy to use, which is part of what makes it so great.