August 24, 2016 10:39 am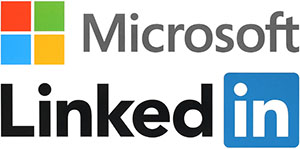 As you may have heard by now, Microsoft has announced the acquisition of LinkedIn, the world's largest professional networking site. LinkedIn has more than 433 million accounts, and mountains of data provided by those users. Users represent more than 200 countries and territories, and membership grows by about 2 users every second. Microsoft announced the acquisition June 13, and the deal is expected to be completed by the end of the year. So what does this mean for Microsoft Dynamics GP?
Well, obviously, LinkedIn holds a great deal of data that would be useful to any business, and you can expect that Microsoft will be working on integrations to maximize that usefulness to users of Microsoft Dynamics GP. LinkedIn and Microsoft Dynamics CRM have a limited integration already, as LinkedIn's Sales Navigator can be embedded in Microsoft Dynamics CRM to help identify and manage connections. LinkedIn profile and company information is embedded in Microsoft Dynamics CRM, enabling connection requests and views of similar profiles and connections. Look for more integration with solutions such as Microsoft Dynamics GP, giving such solutions a huge competitive advantage.
Microsoft CEO Satya Nadella had this to say about the acquisition: "The opportunity for Office 365 and Dynamics is … profound. Over the past decade we have moved Office from a set of productivity tools to a cloud service across any platform and device. This deal is the next step forward for Office 365 and Dynamics as they connect to the world's largest and most valuable professional network. In essence, we can reinvent ways to make professionals more productive while at the same time reinventing selling, marketing, and talent management business processes. I can't wait to see what our teams dream up when we can begin working together once the deal closes, which we expect will happen this calendar year."