February 17, 2016 3:22 pm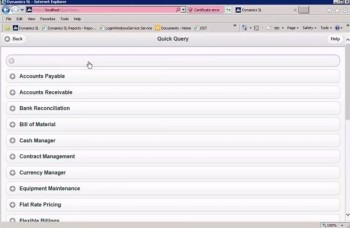 Quick Query is a great tool you can use to query the Microsoft Dynamics SL database, and to view, filter, and sort the data, and to add/remove columns. The data can be exported to Excel, and it can be set up to be refreshed each time the file is opened while connected to the internet. Users can also create custom queries that include customer tables or third-party products, as examples.
Prior to using the Quick Query feature in web apps for Microsoft Dynamics SL, you (or your system administrator) need to configure the software. There are basically two steps to setting the system up. First, you'll need to open the Access Rights Maintenance screen so that you can grant users the security rights to the necessary web applications. The second step is to assign rights to web services, which you can do by clicking on the Web Service tab. You'll see a long list of web service rights available.
Once it's set up, to use Quick Query, you just select "Quick Query" from the web apps menu. Let's say that your accounting manager wants to know the outstanding receivables for a customer. As the name of the tool suggests, Quick Query can get you the answer very quickly. In the Quick Query screen, expand "Accounts Receivable," then select "Customer Balances (Base)."
Click the Actions button at the upper right. You'll see plenty of options here, giving you the ability to remove columns from the data display you'll get, or to change their order. To do either, you click the Choose Columns button. If you want to see the data for just one customer, you'll want to filter the data, and to do that, you click the Expression Builder button, and click Add Filter.