September 12, 2016 11:40 am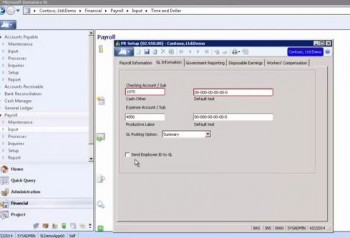 In our last couple of blog entries for Microsoft Dynamics SL, we have been going over how to set up Payroll for Microsoft Dynamics SL, the project-focused business management solution for project-driven organizations. In those entries, we have covered the fields and checkboxes on the Payroll Information tab of the PR Setup screen.
Today we move on to the GL Information tab of the PR Setup screen. Much of the information here defaults into the fields, but can be overwritten. The GL Posting Option field specifies how Payroll transactions are posted to the General Ledger. If the Detail option is selected, each Payroll transaction will be posted to the General Ledger. If the Summary option is selected, the transactions will be summarized by account in each Payroll batch entered. You might want to start with the Detail option to see what that looks like, and if it is more detail than desired, you can change it to Summary later.
The Send Employee ID to GL checkbox only controls time entered and project. No transactions originating in Payroll will contain the Employee ID in the GL Tran table or Employee ID table. However, the GL Tran table and the Employee ID table will be updated with the Employee ID. The Employee ID field is displayed in the General Transaction screen and the General Ledger module if the ID field is not displayed.
There are only three fields in the Disposable Earnings tab of the PR Setup screen. These settings are used to determine the maximum amount of an employee's disposable earnings that can be garnished. Garnishment deductions are often based on disposable wages, which are gross wages minus certain deduction amounts such as federal, FICA, state, etc.