June 22, 2016 12:08 pm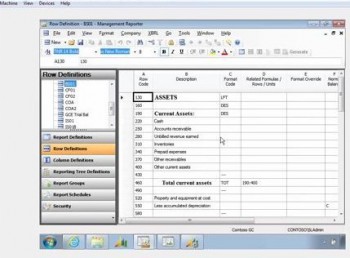 Microsoft's Management Reporter, which integrates smoothly with Microsoft Dynamics SL, is an interactive reporting application that financial and business professionals can use to create, maintain, deploy, and view financial statements. It moves beyond traditional reporting constraints to help you design a variety of reports efficiently. Communication is streamlined with the use of interactive notes and instant messaging.
Management Reporter includes dimension support, which means that account segments or dimensions are immediately available. There is no need for additional tools or configuration.
Microsoft FRx is also a software product used for financial reporting and analysis, and is also smoothly integrated with Microsoft Dynamics SL, but its development ceased in 2011. Many organizations that previously used FRx have already switched to Management Reporter. Here are some of the differences between the two systems:
| | |
| --- | --- |
| FRx | Management Reporter |
| Specification Set | Building Block Group |
| Row Format | Row Definition |
| Column Layout | Column Definition |
| Reporting Tree | Reporting Tree Definition |
| Report Catalog | Report Definition |
| DrillDown Viewer | Report Viewer |
| Link to General Ledger | Link to Financial Dimensions |
But this is not just a case of changing terminology for the same features. Intended as the replacement for FRx, Management Reporter is easier to use and more efficient than FRx is, in every screen and feature. Some features were rearranged in the user interface so as to increase user control and ease of navigation.
Management Reporter includes a migration wizard you can use to migrate the data from FRx into Management Reporter. There are two operations that you will have to perform in order to migrate your data from FRx into Management Reporter. The first is, of course, migrating the FRx data, and the second is validating the building blocks. Validation can be done at a separate time. This process flags any errors in your data migration, and it takes longer to run.