July 13, 2016 4:22 pm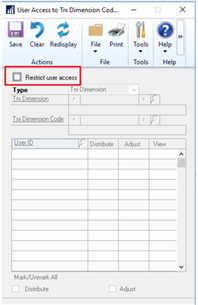 Microsoft Dynamics GP 2016 was released in May, and for the last few months we've been going over the dozens of new features it delivers, first as introductions, and now in more detail. Today we're going to take a closer look at an improvement you'll find useful for analytical accounting in Microsoft Dynamics GP 2016.
This is a new feature that may seem small, but for those who use analytical accounting, it will come up big. In previous versions of Microsoft Dynamics GP, when a new analytical accounting dimension code was created, each user had to have been granted permission to use it, and that could be time consuming for those organizations with a lot of users. This new functionality enables you to decide whether or not you want to allow all users to have automatic access to all dimension codes, or whether you prefer to keep doing it manually for each user and each dimension code as before.
In the User Access to Trx Dimension Code screen, a new checkbox has been added that is entitled "Restrict user access." If this checkbox is not marked, then all Microsoft Dynamics GP users will have access to all the transaction dimension codes. New users will also be automatically granted this access. Furthermore, the "view" access to include employees in queries will be automatically granted. If, on the other hand, this checkbox is marked, then the fields in the screen will be enabled so that you can continue to control access per user, as before. You must then grant appropriate access for all new users as well. If you upgrade Microsoft Dynamics GP, the checkbox will still be marked afterward.