July 15, 2016 4:13 pm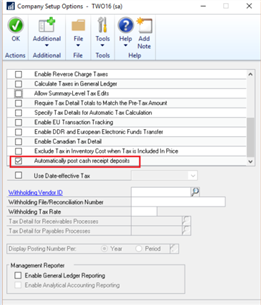 Microsoft Dynamics GP 2016 was released in May, and for the last few months we've been going over the dozens of new features it delivers, first as introductions, and now in more detail. Today we're going to take a closer look at another new feature, the ability to automatically deposit cash receipts to a lump sum deposit in Bank Reconciliation. This is a feature that users have been asking for, and now it's here!
There were options in previous versions of Microsoft Dynamics GP to have cash receipts automatically deposit to Bank Reconciliation, but they only deposited the cash receipts to individual deposits in Bank Reconciliation. This new feature enables you to have all the cash receipts in the same batch automatically deposit as a lump sum (or single deposit) in Bank Reconciliation, which will make your accounting lives run that much more smoothly.
To use this new functionality, all you have to do is go to the Company Setup options and mark the option to "Automatically post cash receipt deposits," and the system will take care of the rest for you. Now all your cash receipts in the same batch will post to Bank Reconciliation as a single deposit (Note: if you use Master Posting, a separate deposit will be created for each separate batch posted, but if you are using Transaction Level Posting, then a separate deposit will be created for each posted transaction, just as in the previous version of Microsoft Dynamics GP).
The lump sum deposit will have drill-back capability, so you can view all the cash receipts that make up the deposit. The receipts from a batch can be posted from the following windows:
RM Cash Receipts
Receivables Transaction Entry
Entering amount for Sales Transaction Entry – Invoice, deposit
Entering amount for Invoice Entry – Invoice