April 20, 2016 2:05 pm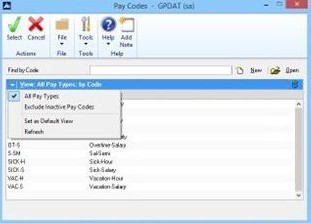 In our last few Microsoft Dynamics GP blog entries, we've been looking at some of the dozens of new features coming next month with the arrival of Microsoft Dynamics GP 2016. So far we've looked at all of the following:
The new HTML5 web client
Web client search
All-in-one document viewer for sales
All-in-one document viewer for inventory
Project accounting in requisitions
Document attachment for project accounting
Enhancements to payroll posting accounts
Today we're going to continue looking at the new features that will be coming your way soon.
With the delivery of Microsoft Dynamics GP 2016, you will be able to enter a prepayment on a purchase order for the total amount instead of for the subtotal. The prepayment amount on purchase orders can now include taxes, freight, and miscellaneous charges.
There will be a new option to exclude inactive pay codes from the pay codes lookup. In the Pay Codes lookup screen, you can select "Exclude Inactive Pay Codes" to do exactly that. Sounds like a pretty easy new feature to use, eh? This feature works for the Employee Pay Codes lookup window as well as for the Pay Codes lookup window.
There will also be a new option in Accounts Payable that will enable a check batch to be paid by credit card. The credit card payment will create an invoice for the credit card vendor, and a remittance form can be printed that will show the invoices paid.
And finally, in Microsoft Dynamics GP 2016, numbers that are exported from Excel will be formatted as numbers rather than as text.