April 14, 2016 6:05 pm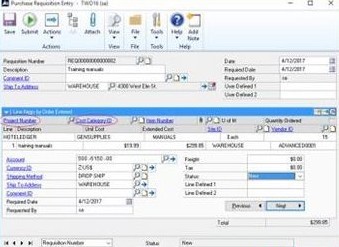 In our last few Microsoft Dynamics GP blog entries, we've been looking at some of the dozens of new features coming next month with the arrival of Microsoft Dynamics GP 2016. We've introduced the new HTML5 web client, web client search, and all-in-one document viewers for sales and inventory. Today we're going to continue looking at new features coming your way soon, starting with enhancements to Project Accounting.
In Microsoft Dynamics GP 2016, you'll find new Project Accounting fields in the Purchase Requisition Entry screen. These new fields are "Project Number" and "Cost Category ID." Requisitions with a project and cost category number can still go through a workflow process. Project and cost category data will flow to a purchase order.
In addition, Project Accounting will be getting a new document attachment feature, meaning that you will be able to attach documents to project expenses. You'll see a new Attach button at the top of the PTE Employee Expense Entry and Employee Expense Entry screens. This button enables you to add header and line attachments such as receipts to an employee expense. Attachments will flow from PTE to Project Accounting and to Payables.
Another enhancement coming to Microsoft Dynamics 2016 concerns Payroll posting accounts, making them easier to set up and easier to manage. You'll be able to see all posting accounts in a navigation list, then easily filter and sort accounts with navigation list functionality. You'll also be able to export and import Payroll posting accounts using Microsoft Excel.