July 22, 2016 12:07 pm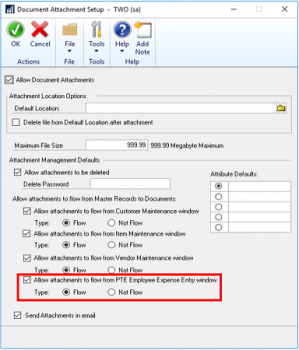 Microsoft Dynamics GP 2016 was released in May, and for the last few months we've been going over the dozens of new features it delivers, first as introductions, and now in more detail.  Today we're going to take a closer look at the new document attachment features for Microsoft Dynamics GP 2016.
Firstly, the document attachment flow functionality, already a great feature, has actually been improved for Microsoft Dynamics GP 2016. Previously, you could choose, via Document Attachment Setup, to have documents flow and to be able to email attachments. That was an "all or nothing" setup, with no ability to modify your options after the fact. But now you have the ability to modify this on an individual record basis.
Another new feature is the ability to scan multiple pages into a document attachment. Scanning directly into an attachment was already a great feature, and this makes it even better. As long as you have a feeder type or other scanner capable of scanning multiple pages, when you click the Scan button, you can scan in that multi-page document.
And finally, with Microsoft Dynamics GP 2016, document attachment is now compatible with Project Expenses in PTE. Not only can you attach documents to the header and lines of the transactions, but you can also include these attachments in your Workflow email notifications.
In Document Attachment Setup (Administration > Setup > Company > Document Attachment Setup), a new option has been added: "Allow attachments to flow from PTE Employee Expense Entry window." With this option you can choose if you want your document attachments to automatically flow from the PTE Employee Expense Entry to Project Employee Expense Entry, or if you want the documents to not flow by default.