July 20, 2016 12:14 pm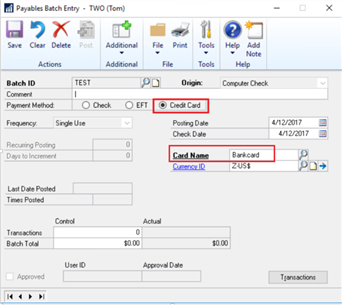 Microsoft Dynamics GP 2016 was released in May, and for the last few months we've been going over the dozens of new features it delivers, first as introductions, and now in more detail. By the time we're done going over everything, we may have a new release of GP to talk about! Today we're going to take a closer look at another new feature, which enables you to add "Credit Card" as a Payment Method option for the Payables Computer Check Batch.
Previously, you only had the options for Check and EFT types as Payment Method options for the Payables Computer Check Batch. When you select this new Credit Card payment type for your option, the Checkbook ID field will change to Card Name, and it is still a required field. Building and editing the check batch, printing the remittance form, and posting the check run will be the same process that it was before. You can print a remittance form to show all the invoices that were paid by credit card.
When you post the check run, all the vendor's invoices being paid by credit card will move to history as normal, but the system will then look to see what Vendor ID is linked to this Credit Card Setup (Microsoft Dynamics GP > Tools > Setup > Company > Credit Cards) and create one open lump-sum invoice under the Credit Card Vendor ID. So now you have an open invoice to pay the credit card company.