July 15, 2015 11:16 am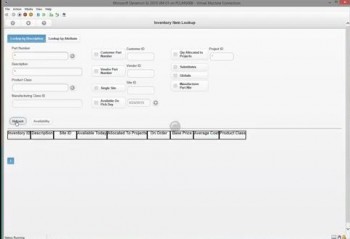 We've been taking a closer look at the web apps that were recently released with Microsoft Dynamics SL 2015 CU1, giving you mobile access to SL from anywhere and from any device. In previous entries, we've looked at the new web apps available under the Project and Resource Management headings, and now we'll investigate the others.
Under the Inventory heading, the new Inventory Item Lookup web app is functionality that used to be available through Business Portal. This feature is for people who are on the road and need to see if a specific item is in stock. You get a quick view of the situation, and if needed you can drill down into the details.
The whole Requisitions module now has wider and more flexible mobile access, which you can find under the Requisitions heading. This functionality was also available previously through Business Portal, and has now been brought over to the web apps. With the web apps, it has a nice new grid interface, and a template feature has been added as well.
The time entry web apps under the Payroll heading are the same as before, but there are new ones under the Shared heading. The Communicator web app is found here, and it gives you mobile access to the Communicator module, which is used to notify you when there is a need for you to take action on something, such as approvals. Quick Query is also available here as a web app, and it gives you full Quick Query capabilities on the go. A new feature enables you to easily export data to Excel.
The Reports web app is also found under the Shared heading, and it gives you mobile access to 78% of the reports that come with Microsoft Dynamics SL. Custom reports are also available here.
The web apps require a Microsoft Dynamics SL Light User license, the appropriate SQL licensing, and you'll need a Microsoft Dynamics SL Web Services registration key. More web apps are expected to arrive before the end of the year.