July 17, 2015 6:07 am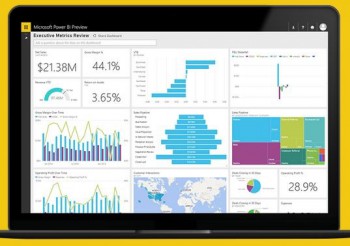 Microsoft Dynamics SL, the project-focused ERP solution for project-driven organizations, already comes with powerful business intelligence (BI) capabilities, and third-party vendors offer even more BI solutions that work withMicrosoft Dynamics SL, each with its own focus and set of features. And if that's not enough, Microsoft announced last week that their new Power BI service will become generally available on July 24, 2015.
What is Microsoft Power BI?
Power BI is a software as a service (SaaS) product that is offered under the "freemium" model: free to use the base version, which is all most users will require, and a more powerful version for a small subscription cost. Power BI combines the familiarity of Microsoft Office applications and the flexibility and power of the cloud. It uses Microsoft Excel and SharePoint to help you mine, analyze, visualize, and share your business data and insights.
Power BI has already been in use as a public preview for over six months, and Microsoft has been continuously developing it with user-input over that time. And there have been a lot of users: over 500,000 of them, representing more than 45,000 companies across 185 countries.
The preview service, Power BI for Office 365 (Power BI 1.0), will continue to operate during a transition period, but on July 24, it will be superseded by Power BI 2.0. Power BI Designer will be superseded by Power BI Desktop on the same day. Microsoft has also announced that they have contributed the Power BI visualization framework and its complete library of visuals to the open source community under an MIT license. The source code and more is now available on GitHub.
In making these announcements, James Phillips, Corporate Vice President, Microsoft Business Intelligence Products Group, says, "Throughout the Power BI preview period we've sustained a blistering pace of innovation. We update the Power BI service every week, adding new features, capabilities, and at least one new third-party content pack – plus Power BI Desktop is updated each month."