January 28, 2016 5:34 pm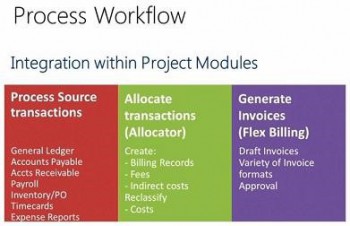 In our last couple of Microsoft Dynamics SL entries, we have been giving an overview of the advanced project management modules available for the solution: Project Controller, Project Allocator, and Flexible Billings. The base project management functionality found in the Business Essentials edition of Microsoft Dynamics SL is all the project management most organizations will need, but if you are looking for unique or advanced project management tools, these modules, found in the Advanced Management edition of Microsoft Dynamics SL, deliver what you are looking for.
You already create financial transactions in the financial modules of Microsoft Dynamics SL such as General Ledger (GL), Accounts Receivable (AR), and Accounts Payable (AP). This data also needs to be brought in to the Project modules, which can be done automatically with a financial transfer system. You set this up by defining account categories such as "LABOR," "TIME OFF," and "SUBCONTRACT." So a financial transaction might post to the General Ledger as account "4050," as an example, but post to Project as "LABOR."
You set up the account categories in the Acct Category Maintenance screen, where you can also view a full list of available account categories. There are also "non-accounting" account categories, which you can use to track information that doesn't show up as revenue or expenses, such as "CONTRACT VALUE" or "BILLED-TO-DATE."
On the GL Cross Reference tab of the Acct Category Maintenance screen, you can see what GL accounts an account category is associated with. You cannot edit this list: GL accounts must be associated with account categories in the Chart of Accounts.