February 2, 2016 2:01 am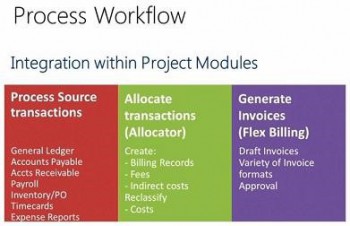 In our last few Microsoft Dynamics SL entries, we have been giving an overview of the advanced project management modules available for the solution: Project Controller, Project Allocator, and Flexible Billings. The base project management functionality found in the Business Essentials edition of Microsoft Dynamics SL is all the project management most organizations will need, but if you are looking for unique or advanced project management tools, these modules, found in the Advanced Management edition of Microsoft Dynamics SL, deliver what you are looking for.
Today we're going to finish up with more information on what you can do with Project Controller. In the Project Controller module, processes are run such as financial transaction transfer (FTT), which we have previously discussed, and also project close and revenue recognition.
One of the decisions you will have to make is whether or not you want to have your projects' financial data updated every time you process a transaction. For example, if you post an Accounts Payable (AP) voucher, do you want it to always immediately update your project costs? You can set up FTT so that it automatically happens every time, or you can run FTT manually, so you can control when it happens. If you automate FTT, then when you post an AP voucher, that will show up immediately in your project costs. Most users choose to automate FTT.
Closing a project is separate from the normal financial close. Select "Close Period" from the Processes section, opening the Close Period window. When you run the close, you will get warnings if AP has not been closed, if there are open AP batches, if there are timecards that have not been posted, if there are untransferred AP transactions, etc.
Revenue recognition is also accessed in the Processes section. It's a process you may want to use for fixed price contracts, where you may not be billing on a project for another four months, as an example. Do you want to wait four months to recognize revenue for that project? Revenue recognition will recognize revenue based on percentage completion, taking into account all factors, such as contract value, costs, and budget. Project Controller is very flexible, and gives you many options for how you want to define factors such as percentage completion for revenue recognition.