January 22, 2016 3:10 pm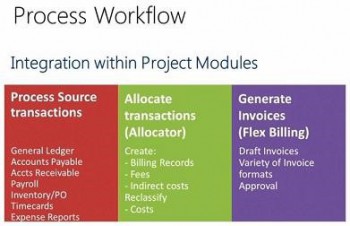 Microsoft Dynamics SL delivers project-focused accounting and business management software for project-driven organizations. As such, the base project management functionality found in the Business Essentials edition of Microsoft Dynamics SL is all the project management most organizations will need, but if you are looking for unique or advanced project management tools, Microsoft Dynamics SL also offers a number of specialized project management solutions.
These advanced project management solutions, which include Project Controller, Project Allocator, and Flexible Billings, come with the Advanced Management edition ofMicrosoft Dynamics SL. Project Controller, which we'll be focusing on most today, helps you improve your project profitability by giving your project managers the accurate, meaningful information they need to take control of project revenue and expenses: enough control to make even low-margin projects profitable.
Project Controller is tightly integrated with the other functionality in Microsoft Dynamics SL, and it receives data from the following sources in the system:
General Ledger
Accounts Payable
Accounts Receivable
Payroll
Inventory/Purchase Orders
Timecards
Expense Reports
The basic project management functionality in Microsoft Dynamics SL tracks profit and loss data at a company level, but the advanced project management modules make it much easier for you to track that same profit and loss data at the job or project level.
Let's say that you have a particular project with material costs of $500. In the General Ledger (GL), you'll create a record for a merchandise purchase of $500 that will go to an Accounts Payable (AP) account. At the same time, you'll have a project posting of $500 that goes to an account called Materials. From there, Project Allocator can adjust with a 10% markup for billing, as an example, creating $550 GL postings and also $550 project postings (for unbilled Accounts Receivable and unbilled revenue). Flexible Billings then shows the materials amount on the invoice as $550, and if you are happy with the invoice, you post it. Posting occurs again in the GL and also in Project Controller (Accounts Receivable and revenue).