January 20, 2016 2:46 pm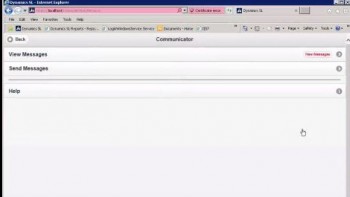 In our last entry about Microsoft Dynamics SL, we were discussing the use of Communicator in web apps, an internal alert and message solution that enables you to easily communicate and collaborate with teammates. We briefly discussed the setup of the system and started going over the basics of using it. Today we'll continue going over the basics of using Communicator in web apps for Microsoft Dynamics SL.
Last time, we discussed messages that have an Approve or Project Maint button next to them, so that you can make a necessary approval or go straight to the relevant project. Another type of message you might receive is simply a message from another employee. This basic type of message will not have an action button next to it. You'll just see the short message under the "Message" heading.
You can easily reply to the sender by clicking on the employee ID under the "Sender" heading. You simply fill in the "Subject" and "Message Text" as you would with an email, then click "Send Message." Boom, done. If you want to add a link to the message, click the Add Link button at the bottom of the screen, then choose Web App, Rich Client App, or URL.
To delete a message, click the Delete button to the left of it, then click the Save button at the upper right of the screen. If you delete a message that alerts you to a needed approval, the approval task is not deleted—you'll still see it in your approvals queue—only the message alerting you to the needed approval is deleted.