July 22, 2015 8:41 am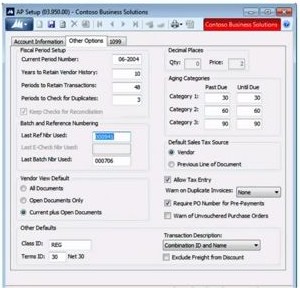 Like the other business management tools in Microsoft Dynamics SL, the Accounts Payable (AP) module is easy to set up and easy to use. When you open the AP Setup window, the first tab (furthest to the left) is the Account Information tab. This is where you set up default values for the system. The default values will automatically populate fields in Accounts Payable screens, but you'll be able to change those values as needed on a case-by-case basis. Still, since the default values are those you'll use most often, setting them up will save you a lot of time in the long run. At the bottom of the Account Information tab, you can choose whether you want information from Accounts Payable to flow to the General Ledger in summary form or in detail.
The next tab is Other Options. There is a lot of information you can set up here, starting with the current period at the top, and below that you can define how long you want to retain historical transaction information. Below that you can set up batch and reference numbering. On the right hand side you can set up your aging categories, Past Due and Until Due. These will affect your Accounts Payable reports.
And finally there is a 1099 tab. A new feature here is the ability to set up backup withholding for a 1099 vendor if needed. You can set the system up to automatically withhold a percentage from a 1099 vendor if certain information is not supplied by that vendor, and you can set up what account that withholding goes to.
Next up: How to set up Vendors in the Accounts Payable module.