April 29, 2016 1:27 pm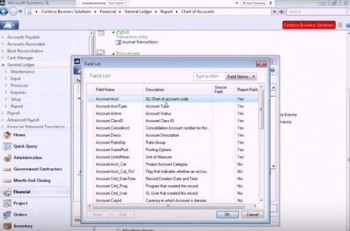 Plenty of new reporting features were delivered with the latest version of Microsoft Dynamics SL, and in our last blog entry about the solution, we took a look at some of them, including new fields on the Select tab of the Chart of Accounts screen, as well as a lookup feature in the Value field there. Today we're going to continue looking at the latest reporting enhancements for Microsoft Dynamics SL.
What if you don't like a default field description, or would simply prefer a different field description? Well, Microsoft Dynamics SL empowers you to easily customize field descriptions to your preference. Under Maintenance, just click Field Description Maintenance. In the Field Description Maintenance screen, choose a Table Name from that lookup list, then choose a Field Name from that lookup list (for the selected Table Name). Then simply fill in the description you want in the Custom Description column on the right.
You can also filter the Field Name List. If you're looking for a User account to select, for example, just type "u" or "us" in the filter field and you will see those field names listed. Once you have your descriptions ready, just click the Save button at the top of the window.
With Microsoft Dynamics SL 2015, you can also open a report, preview it, and then email a copy of it from there. When previewing a report, there is a button at the top of the screen that enables you to quickly email a copy of the report. Just choose the file type, such as PDF, and click OK to open up your email client with a message ready to send, the report already automatically attached.