April 21, 2016 2:40 pm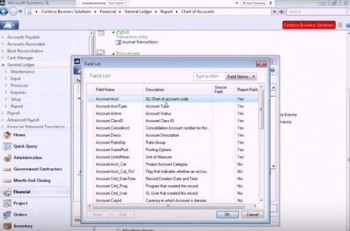 Plenty of new reporting features were delivered with the latest version of Microsoft Dynamics SL. Let's take a look at some of them.
When you are running a report like the Chart of Accounts (Reports > Chart of Accounts), there are many times that you don't need or want to see everything on that report. If so, just click the Select tab in the Chart of Accounts screen. Select a field, and in the Field List screen, you will be able to view information that was added in Microsoft Dynamics SL 2015. This includes a description of each field in the list as well as a column that lets you know if the field is included in the report or not.
How about a report like the Trial Balance (Reports > Trial Balance)? This report doesn't use a table; it uses what we call a "view," which is basically a combination of multiple tables. The Field List screen for the Trial Balance report includes the same new columns as for the Chart of Accounts report, giving a description of each field and letting you know if it is included in the report or not. But the Trial Balance report's Field List screen has an additional column for the "Source Field." Here you can quickly see where a view comes from.
The Select tab for each report also holds another enhancement that came with Microsoft Dynamics SL 2015. When you have selected a Field, and then an Operator, it is much easier now to fill in the Value field, because now there is a lookup feature for that field, so you don't have to do it from rote memory. It's also a great way to have confidence that you are selecting a value that is valid in the system.