June 30, 2015 7:32 pm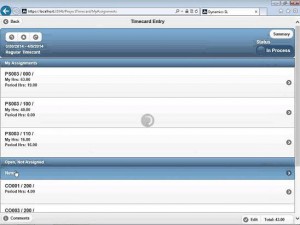 Mobility is the new normal, and Microsoft Dynamics SL web apps have been designed and delivered with that in mind. People increasingly use smartphones and tablets for work, and the majority of people who use either for work are choosing the devices themselves. An estimated 905 million tablets will be in use for work, be it in the office, at home, or on the road, by 2017, and Microsoft Dynamics SL is already ready for that future.
Microsoft Dynamics SL web apps give you browser-based access to the information in Microsoft Dynamics SL, expanding that access from desktops to tablets and smartphones as well. Microsoft Dynamics SL previously delivered mobile access through Business Portal, but Business Portal was limited in its capabilities, working best if your remote access came through a laptop running Windows and Internet Explorer. Microsoft Dynamics SL web apps have replaced Business Portal, because they are more flexible and cross-platform. Microsoft Dynamics SL web apps were first introduced a year ago, and two more rounds of web apps have been released since then, and in that time, the web apps have already met the access capabilities of Business Portal, and for some features, they have gone beyond the access capabilities of Business Portal.
The only requirement for using these web apps is that the device you are using has a web browser that supports HTML5. This includes iOS, Android, and Windows devices, and Macintosh desktops as well. The web apps are developed with "responsive technology," meaning that they detect what kind of device you are using, and they display the information appropriately to that device. They are built to take best advantage of the size of your screen.
The initial web apps released were for time and expense entry and approvals. The web apps delivered last fall with the release of Microsoft Dynamics SL 2015 included project functionality such as maintenance, communicator, document approval, delegations, and budget approvals. In May, a third round of web apps was delivered with the latest release, Microsoft Dynamics SL 2015 CU1, including the following:
Payroll timecard
Payroll advanced timecard
Item request entry
Item request approval
Reporting (web ROI)
Project maintenance assign users to tasks
Employee and resource maintenance
Employee position/rate maintenance
Project budgeting
Employee utilization module
Resource planning by resource
Resource planning by project
We'll look at some of these web apps in more detail in further blog entries.