April 6, 2016 2:26 pm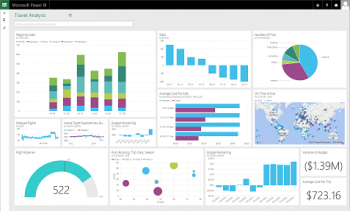 Last time out, we were discussing Microsoft's Power BI, which, needless to say, integrates smoothly with Microsoft Dynamics SL. Microsoft Dynamics SL, the project-focused ERP solution for project-driven organizations, already comes with powerful business intelligence (BI) capabilities, which is all most users will need, but if you're looking for more—much more—there is Power BI.
Power BI has added more than 265 new features over the last year, and more are coming all the time. Here are some of the highlights of the latest and soon to be arriving features:
Role level security for cloud models and direct query provide granular control around who can access specific rows of data. Users can author and manage a single dashboard with customized views of the data unique to individuals.
To help organizations understand their overall Power BI usage, tenant-level usage reports are being enabled for assets like reports, dashboards, datasets, and content packs.
The ability to analyze Power BI data in Excel, giving you access in Excel to data that was loaded and modeled in Power BI.
The ability to pin from Excel. Insights can be taken directly from the Excel desktop to Power BI dashboards, which will keep tiles on the dashboard up to date to help track your important data.
Improvements to Power BI's natural language Q & A interface will make it even simpler to use, with helpful visual cues, improved performance, and an overall cleaner look.
The unique query capabilities that enable users to find data and create visuals on the fly can now be used with direct query data sources. This combines the advantages of using Power BI's direct query capabilities to access data stored on-premises and in the cloud by asking intuitive, natural questions via the Q & A interface – including Cortana, which will be able to answer questions from direct query sources used in Power BI.