January 7, 2016 10:45 pm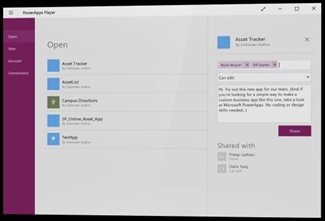 Microsoft has been looking to speed up the evolution and delivery of business apps for systems such as Microsoft Dynamics SL, the project-focused ERP solution for project-driven organizations. Microsoft's answer, in preview since last month, is PowerApps, a new service that empowers employees to create the apps they need and to easily and securely share their apps with coworkers.
Microsoft's Bill Staples, Corporate Vice President, Application Platform, pointed out when making the announcement that we work far more often on our phones, tablets, and laptops than ever before, and we do this work everywhere we go, from the office to factories to warehouses to airplanes to customer meetings. Yet the evolution of mobile business apps has been slow to keep pace with demand.
Microsoft has identified three key reasons for this:
Not enough skilled mobile developers: Gartner predicts that market demand for mobile app development services will grow at least five times faster than internal IT organization capacity to deliver them.
Business data proliferation: Business data has proliferated, spanning on-premises systems and beyond the firewall to SaaS (software as a service) clouds, and with data stored in many systems, it is difficult to connect to and consume related data from within an app.
IT agility and app sharing: Mobile app distribution typically happens through app stores, or through mobile device management, governed by IT, and this creates inherent friction in getting apps onto employee phones.
Microsoft PowerApps is a unique solution to these problems, an enterprise service for innovators everywhere to connect, create, and share business apps with their teams on any device in minutes. You can quickly create apps that work on any device using a Microsoft Office-like experience, and you can use built-in connections to connect to cloud services and on-premises systems. PowerApps can then be shared like documents.
For more information, or to sign up for the service, visit Microsoft's PowerApps website.