March 15, 2016 10:06 am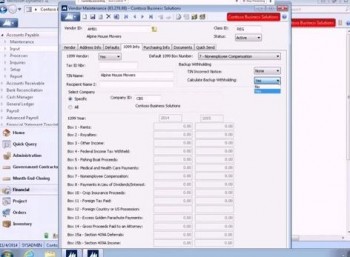 The 1099 vendor process is pretty nice in Microsoft Dynamics SL 2015. Used to be, any backup withholdings required for your vendors would necessitate a manual process, but these days, in Microsoft Dynamics SL 2015 at least, that process is much less manual, and much more automated.
To set this feature up, you first open the AP Setup window. The pertinent fields you are looking for are found under the 1099 tab. You can turn on the backup withholdings feature here, or turn it off. If you want to use the feature, turn it on and input the percentage that you want withheld. You can also select to disable warnings for vendor backup withholding. Lastly, input the account and subaccount.
When you are done, click the Save button, and you will then have the opportunity to have the system automatically search for vendors that might need backup withholdings. This will save you the time spent manually looking for vendors that might be out of compliance. One reason for turning on backup withholding for a vendor would be if the vendor is missing a Tax ID number, as an example. For each vendor, under the 1099 Info tab, you can select "Yes" or "No" next to "Calculate Backup Withholding" to turn the feature on or off for that vendor.
In the Voucher and Adjustment Entry window, when you choose a vendor from the Vendor List, if that vendor has backup withholding turned on, a prompt will warn you that the vendor is subject to backup withholding.