July 8, 2016 1:55 pm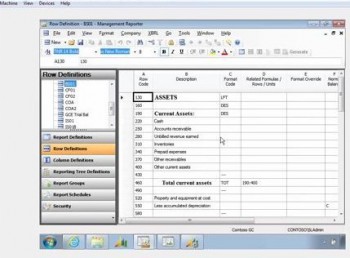 In our last few Microsoft Dynamics SL blog entries, we've been discussing Management Reporter for Microsoft Dynamics SL. Management Reporter, which integrates smoothly with Microsoft Dynamics SL, is an interactive reporting application that financial and business professionals can use to create, maintain, deploy, and view financial statements. It moves beyond traditional reporting constraints to help you design a variety of reports efficiently. Communication is streamlined with the use of interactive notes and instant messaging.
The main components of Management Reporter are as follows:
Report Designer
Report Library
Configuration Console
Report Designer for Management Reporter is the tool you use to define your report elements: what a report will look like and how it will work. Here is where you set your row, column, and tree definitions, as well as the report definitions themselves.
The Report Library, also known as the Report Viewer, is where you can manage, view, print, export, and analyze all of your generated reports. This is a standalone component of Management Reporter, so you can install it independent of the Report Designer component. It is basically where you store your reports. You can organize it with folders you create, and you can also assign different levels of security on different folders. Every report you generate goes into the Report Library.
The Configuration Console is the administrative component of Management Reporter. Here you can manage the integrations between Management Reporter and your Microsoft Dynamics SL databases, as well as the companies you use in Management Reporter and the application and process services. The Configuration Console also contains the Management Reporter log files.