July 15, 2016 4:17 pm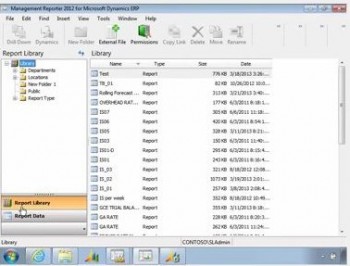 In our last few Microsoft Dynamics SL blog entries, we've been discussing Management Reporter for Microsoft Dynamics SL. Management Reporter, which integrates smoothly with Microsoft Dynamics SL, is an interactive reporting application that financial and business professionals can use to create, maintain, deploy, and view financial statements. It moves beyond traditional reporting constraints to help you design a variety of reports efficiently. Communication is streamlined with the use of interactive notes and instant messaging.
In our last entry, we introduced the main three components of Management Reporter:
Report Designer
Report Library
Configuration Console
Today we'll go into more detail on the Report Library, also known as the Report Viewer, where you can manage, view, print, export, and analyze all of your generated reports. Every report you generate goes into the Report Library.
In the left pane of the Report Library screen, you'll find your folders. You can create any folders you want to organize the Report Library as you like (by department, by location, etc.). You can also assign security on each folder. Just right-click on a folder, then select Report Library Permissions. If you want to bring an external file into a folder, right-click the folder and select Insert External File.
To view a report, double-click it in the right pane. You can also see previous versions of a report by right-clicking it and selecting Show Versions. You'll see a list of all the previously generated copies of that report, including the date and time of creation.