July 20, 2016 12:18 pm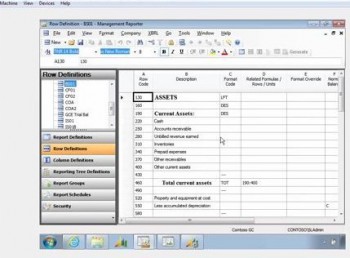 In our last few Microsoft Dynamics SL blog entries, we've been discussing Management Reporter for Microsoft Dynamics SL. Management Reporter, which integrates smoothly with Microsoft Dynamics SL, is an interactive reporting application that financial and business professionals can use to create, maintain, deploy, and view financial statements. It moves beyond traditional reporting constraints to help you design a variety of reports efficiently. Communication is streamlined with the use of interactive notes and instant messaging.
These are the key user interface features of Management Reporter:
Customizable navigation pane
Consistent Windows theme
Report, row, column, and tree definitions
Report groups and schedules
Security panes
Building block organization
Associations
Undo/redo
Hide/unhide
Ad-hoc reports (building and generating reports without having to save them)
On the left hand side of the Report Designer, if you click Report Definitions, you will see a list of your report definitions in the upper part of the pane. Similarly, you can click Row Definitions or Column Definitions to see those definitions listed. You can organize any of these as you like with folders. Just right-click to add a new folder.
You can right-click an item in the list, such as a row definition, for example, then select Associations, to quickly see which report definitions that row definition is associated with. In other words, you can see which report definitions use that row definition.
The hide feature can be useful to clean up your work space. As an example, if you are working on the last 2 columns for a 30 column report you are designing, you can select the first 28 columns, right-click, and select Hide to remove them from view.