August 31, 2016 11:56 am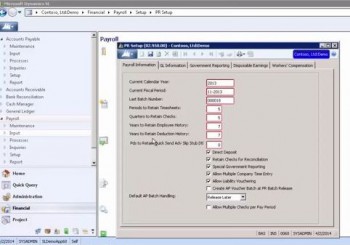 Today we are going to go over how to set up Payroll for Microsoft Dynamics SL, the project-focused business management solution for project-driven organizations. As with all modules for Microsoft Dynamics SL, using the Payroll module begins with the module's setup screen. So we begin by clicking PR Setup under the Setup heading in Payroll.
In the PR Setup screen, under the first tab, Payroll Information, the Current Calendar Year field may be automatically filled in. If your organization uses a non-calendar year, then simply enter the current calendar year here. The Current Fiscal Period field should match your other modules. The Last Batch Number field can be all zeros.
The Periods to Retain Timesheets field pertains to entries from time entry or time and dollar entry. If you are unsure how long to keep such records, just enter a high number for now, as you can always reduce it later. Regardless of what you put here, records are only deleted when you run Delete Payroll Detail.
The Quarters to Retain Checks field determines how far back you can run checks on the check register. Generally, you want this to amount to more than a year at the least. The Years to Retain Employee History field determines how far back you can go to see summary numbers in an employee's history. Typically, this will be set for many years. The information is kept to support W2 data and future potential government and employee inquiries.
The Years to Retain Deduction History field determines how far back you can go to see a deduction setup. You review such information in the Deduction History screen. You want to keep this information long enough to enable an employee or government agency to check the deduction calculation if requested. Deductions do not take up much space in the database, but they can clutter up and make it more difficult to find a particular one. The Pds to Retain Quick Send Adv Slip Stub Dtl field can be set to zero if you are not using Quick Send.