April 14, 2016 6:08 pm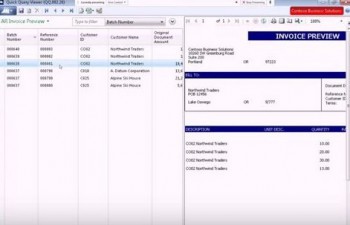 One of the new features delivered in the latest version of Microsoft Dynamics SL is an invoice preview in Accounts Receivable. The invoice preview functionality in Microsoft Dynamics SL 2015 makes it easier to view your invoice before you even send it out. When's the best time to make an edit to something? While your batch is still open. This feature makes it easier to view and make changes to invoices before they are processed and sent.
When looking at the data in your Invoice and Memo screen, it may look all right, but what if you want to see what it will look like if you actually turn it into an invoice? Well, a new button has been added to that screen to answer precisely that question. And conveniently enough, it's the Invoice Preview button, found at the bottom of the screen.
This feature enables you to open and preview one invoice at a time. But Microsoft also added a related new feature, the AR Invoice Preview, that makes it easy for you to view multiple items at one time. The AR Preview screen is like a Quick Query screen and an invoice preview screen merged together on one screen.
In the left pane, you will find the standard functionality you will be familiar with from using Quick Query. So you can add a filter, if the list is very long, to be able to view the specific items you want to be able to preview. As you select an item in the list, the right pane will display the invoice preview for that item. If you find an item that needs editing, just right-click that item and select to drill back to its Invoice and Memo screen.