December 18, 2015 3:44 pm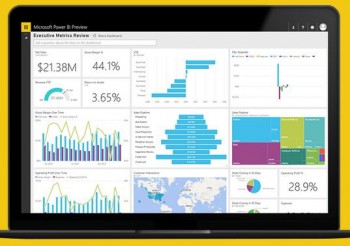 Microsoft Dynamics SL, the project-focused ERP solution for project-driven organizations, already comes with powerful business intelligence (BI) capabilities, and third-party vendors offer even more BI solutions that work with Microsoft Dynamics SL, each with its own focus and set of features. And on top of all that, Microsoft's Power BI service has been generally available since July. Last week, Faisal Mohamood, Group Program Manager for Power BI, wrote a blog entry summing up the evolution of Power BI over the last half of the year.
Power BI is a software as a service (SaaS) product that is offered under the "freemium" model: free to use the base version, which is all most users will require, and a more powerful version for a small subscription cost. Power BI combines the familiarity of Microsoft Office applications and the flexibility and power of the cloud. It uses Microsoft Excel and SharePoint to help you mine, analyze, visualize, and share your business data and insights.
As Mohamood points out, "content packs" give any business user instant access to out-of-the-box dashboards for some of the most popular SaaS applications, and with minimal effort. In July there were 6 content packs, and now there are already 36! And a new one is currently being delivered every week. Over time, Microsoft intends to open content pack development so that anyone can build them and submit them for approval.
Microsoft has already open sourced their visualization stack and put it on GitHub. A gallery for visuals was launched in October, and it now includes 27 custom visuals. These are also being continually added.