July 22, 2016 12:10 pm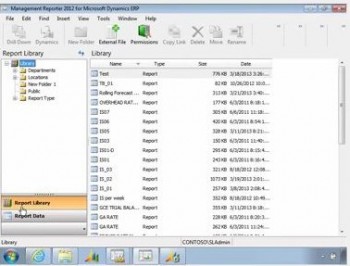 In our last few Microsoft Dynamics SL blog entries, we've been discussing Management Reporter for Microsoft Dynamics SL. Management Reporter, which integrates smoothly with Microsoft Dynamics SL, is an interactive reporting application that financial and business professionals can use to create, maintain, deploy, and view financial statements. It moves beyond traditional reporting constraints to help you design a variety of reports efficiently. Communication is streamlined with the use of interactive notes and instant messaging.
In our last entry, we listed the key user interface features for Management Reporter. These are the key presentation features for Management Reporter:
Column page breaks
Graphics
Negative numbers in red
Format overrides in row definition
Custom page numbering
Column page breaks can be included on reports so that you are not losing columns of data, as happened with Management Reporter's predecessor, FRx, when there were more columns than would fit in the width of a page. To create a column page break, insert a new column and select Page as the column type. If you have a page break, but there are columns you want to include on each page (such as a description column), you can make that choice in the Print Control screen.
Graphics can be included on report headers and footers. Just click the Images button on the Headers and Footers tab in the Report Definition screen. At the bottom of that tab, you can select what page you want your report to begin with. You can also select to display negative numbers in red in the Report Definition screen. Click the Save button to save any of your selections.