September 17, 2015 11:14 am
In our Microsoft Dynamics SL blog entries over the last month, we've been focusing on the Accounts Payable (AP) module, covering the AP setup options that offer so much flexibility for your unique way of doing business, as well as going over each of the following:
Today we're going to look at the inquiries and reporting functionality that is available for Accounts Payable in Microsoft Dynamics SL.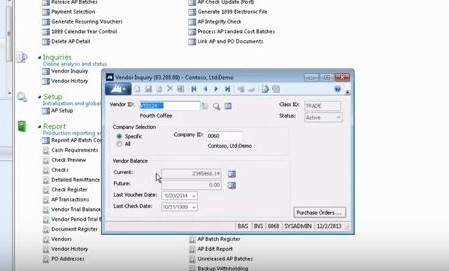 Vendor Inquiry and Vendor History Overview
The Vendor Inquiry screen is available under the Inquiries heading in Accounts Payable. Do a lookup in the Vendor ID field to select the vendor you want, and you'll see the data for that vendor, either for a particular company or for all. You'll see current and future balances, and you can click on the magnifying glass icon next to either field to drill into the details. You can even drill back to the original documents entered for the vendor.
Also under the Inquiries heading you have one-click access to the Vendor History screen. Here you'll see all the transactions entered for a specified vendor and for a specified fiscal year. You'll see a full list of payments, discounts, debits, credits, and backup withholding. Microsoft Dynamics GP, SL, and CRM. We automate business processes to ensure that our customers work efficiently. MIG is a Microsoft Dynamics Gold Certified Partner.