May 20, 2016 10:16 am
The Quick Query module for Microsoft Dynamics SL enables users to quickly and easily mine the Microsoft Dynamics SL database, and to view, filter, and sort the mined data in a table format. You can also export the data into Microsoft Excel, and set it so that an Excel file is refreshable with current data.
In our last Microsoft Dynamics SL blog entry, we introduced some of the basics of how to use Quick Query, including the following:
Moving, deleting, and renaming columns
Changing the sort order
Drilling down to the source data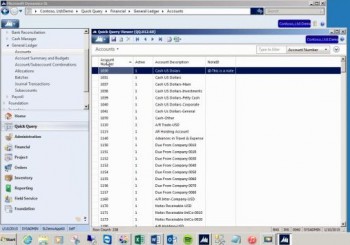 Today we'll continue covering how to use Quick Query for Microsoft Dynamics SL 2015.
At the upper right of the Quick Query Viewer screen, you can filter your data. Choose a field from a drop-down list, such as Account Number or Account Description. Each of the columns in your query is represented here. Then type your filter into the text box. For example, you can select the Account Description field, then type in "Supplies," and you will get a list of results that have the word "Supplies" in the description.
This is a quick on-the-fly filter, but you can click the button to the right of this filter to access more advanced filter functionality. You can add as many filters as you want here by clicking "Add Filter."
You can copy a line in your list by right-clicking and then choosing to copy it, and you can save multiple rows of data to your clipboard in this way, and then paste the data into an email or a Word or Excel document, as examples.