January 20, 2016 2:28 pm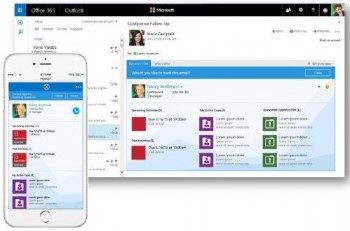 Microsoft Dynamics CRM 2016 was released late in 2015, and we've been discussing in broad strokes the capabilities you'll find delivered with it. Today we're going to take a look at CRM for Outlook and Excel integration as you'll discover them in Microsoft Dynamics CRM 2016, features that will enable your sales staff in particular to be more productive.
CRM for Outlook, available for Microsoft Dynamics CRM Online, is part of Microsoft's commitment to enabling people to work where and how they desire and even need to work. CRM for Outlook delivers key sales capabilities within Outlook, both on a desktop machine and on a mobile browser, true offline and rich sales capabilities inside the productivity application that salespeople already use on a daily basis.
In this release, Microsoft makes it even easier to stay productive by surfacing contextual information fromMicrosoft Dynamics CRM right in inboxes. The Microsoft Dynamics CRM App for Outlook enables you to track emails, add contacts from within an email, or even create new records to track emails against the browser on PC, on Mac, or on a mobile browser on a phone. The app will expand support to include Firefox, Safari for Mac, and Outlook for Mac, in addition to the current support for Internet Explorer and Chrome.
Microsoft also provides the ability for salespeople to conduct analysis in Excel, directly from within Microsoft Dynamics CRM. They can now view sales data in familiar Excel templates, perform what-if analyses, and upload the changes, all while maintaining the work context. Users can export and analyze data in Excel from their mobile devices with added support for the CRM for Tablets and CRM for Phones apps.