August 31, 2016 12:05 pm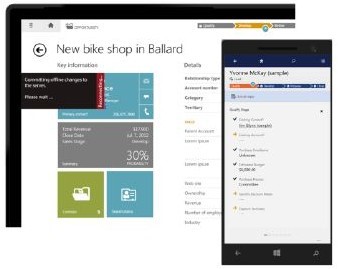 In May Microsoft announced the start of the Microsoft Dynamics CRM Spring 2016 Wave phased roll-out. The 2016 update 1 for Microsoft Dynamics CRM introduces many new features to the solution, and we've been going over them since the announcement. In our last Microsoft Dynamics CRM blog entry, we started going over the mobility enhancements you'll find in the latest release, and today we are going to continue on that topic. By the time we are done going over all the new features, it may be time for the next major release!
Say hello to the company news timeline for mobile. You can now view news related to an account, lead, contact, or opportunity in the Microsoft Dynamics CRM app on your mobile device in a simple timeline visualization. The company news timeline feature for mobile enables salespersons to get a quick glimpse of the latest news in the mobile client from news articles from Bing news. The news timeline contains the headline of the news article along with, time-elapsed, the source of the news article and, where relevant, it will be categorized as Financing, Offerings, Management, Cost Cutting, Earnings, Growth, Legal, Acquisitions, or Partnerships.
The news displayed in the timeline enables users to:
Filter: Filter news articles by categories.
Group: News is grouped by Today, This Week, and Last Week.
Navigate: Clicking on an individual news item will enable users to navigate to the original news article at the source website. The timeline also contains a link to go to Bing directly for more relevant news information.
This feature is a preview feature for Microsoft Dynamics CRM Online customers, and it is only available in the US, UK, Canada, and Australia.