August 24, 2016 12:33 pm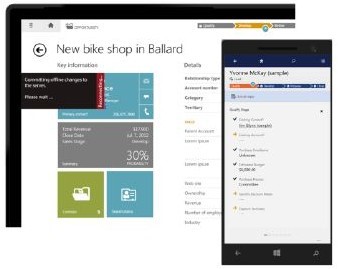 In May Microsoft announced the start of the Microsoft Dynamics CRM Spring 2016 Wave phased roll-out. The 2016 update 1 for Microsoft Dynamics CRM introduces many new features to the solution, and we've been going over them since the announcement. Today we're going to turn our attention to the mobility enhancements you'll find in the latest release.
In our mobile-first world, Microsoft Dynamics CRM helps you stay connected and productive while on the go. The solution delivers a seamless user experience across mobile devices, including tablets and phones, in a "configure once, deploy everywhere" model.
The mobile offline capabilities of the Microsoft Dynamics CRM app that were a preview feature with the launch of Microsoft Dynamics CRM 2016 are now generally available for CRM Online customers. These mobile offline capabilities provide a richer offline experience for end users, enabling them to view, update, and add records while using the mobile apps offline—without having to save changes or additions as drafts first. These capabilities have also now been enhanced to support conflict detection.
Furthermore, Microsoft Dynamics CRM mobile applications will integrate with the new Intune Mobile Application Management (MAM) support for iOS and Android devices that are not enrolled for Intune mobile device management (MDM). This feature protects company data in Microsoft Dynamics CRM without requiring IT to enroll and deeply manage that end user's entire device. This is particularly useful for bring-your-own-device (BYOD) scenarios where end users can not or do not want to enroll their devices for IT management. This feature is also useful if a device is already enrolled in another MDM solution.